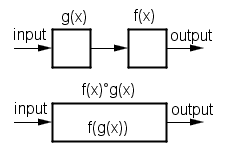 Figure 1: Composite function
A composite function is a function made up of two other functions that takes as input of one function the output of the other function. To write the composition of functions f(x) and g(x), write f(x)°g(x) or f(g(x)).
A composite function is sometimes called a compound function. The act of composing functions is called composition of functions.