Measurement Error
Pronunciation: /ˈɛr ər/ ?
For other types of error, see Error.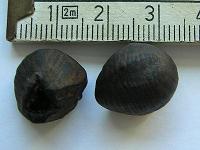 Figure 1: A metric ruler being used to measure banana seeds.

Click on the image to see a larger version.
An measurement error is the difference between a measured the actual value.
Cite this article as:
Image Credits
Revision History
2011-03-12: Initial version (
McAdams, David.
)