Laplace expansion is an algorithm for finding the determinant of a matrix. Laplace expansion is also called expansion by minors and expansion by cofactors. The Laplace expansion is named after French mathematician Pierre-Simon Laplace (1749-1827).
To find a determinant of a matrix by Laplace expansion:
Select any row or column of the matrix;
Find the minor of each element in the selected row or column;
Add or subtract each element multiplied by the its cofactor.
The formula for Laplace expansion of a n×n matrix A is:

where aij is an element of the matrix and Cij is the cofactor of element aij.

The minor of an element of a matrix is the square matrix formed out of the matrix by excluding the row and column of the element. See figure 1.

The cofactor of an element of a matrixis the determinant of the minor of that element.

Whether an element and its cofactor are added to or subtracted from the result depends on the position of the element in the matrix. Figures 2, 3, and 4 show whether a particular element is added or subtracted.

To build the equation for Laplace expansion, multiply each element from the selected row or column by its cofactor and apply the sign. Assume, for example, column 3 is selected. The equation then is: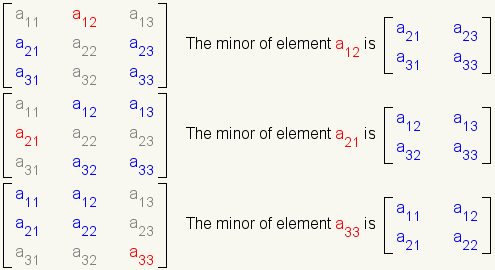 Figure 1: Minors of a 3×3 matrix.
Figure 2: Signs of cofactors for a 2×2 matrix.

Figure 3: Signs of cofactors for a 3×3 matrix.

Figure 4: Signs of cofactors for a 4×4 matrix.