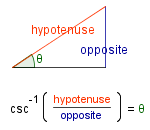 Figure 1: Arccosecant
An arccosecant is an angle whose cosecant is a particular value. The arccosecant is a trigonometric function. The arccosecant is the functional inverse of the cosecant. If hypotenuse/opposite = csc(θ) then csc-1(hypotenuse/opposite) = θ. Arccosecant is written arccsc or csc-1.
Definition: y = csc-1 x if and only if x = csc y.