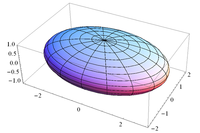 Figure 1: Ellipsoid.

Image placed in public domain. Click on the figure for a larger image.
An

ellipsoid

is a 3-dimensional solid. The cross sections of an ellipsoid are ellipses. The general form of an ellipsoid equation is

where

is the center of the ellipsoid, and a, b and c are the semi-axes of the ellipsoid.