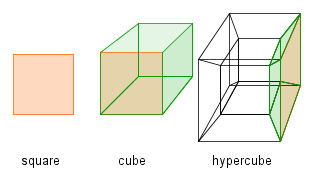 Figure 1: A square, a cube and a hypercube.
Manipulative 2: Hypercube
A square is a two dimensional geometric object with congruent sides that meet at right angles. A cube is a three dimensional object with congruent faces made of squares that meet at right angles. If a square is extended to three dimensions, a cube is obtained. When a cube is extended to four dimensions, a hypercube is obtained.
A hypercube is a four dimensional object with eight congruent, perpendicular cubes for boundaries. Figure 1 shows an orange square. That orange square is then made part of a cube. The other faces of the cube are green. The green and orange cube is then used to make a hypercube.
Figure 2 is a four dimensional hypercube projected onto a two dimensional surface. The two dimensional surface is the computer screen. Each of the check boxes will highlight one of the cubes in a different color.