Manipulative 1: Tangent. Created with GeoGebra.
Tangent is defined to be equal to the length of the side opposite the angle divided by the length of the side adjacent to the angle of a right triangle. In manipulative 1, click on the blue points and drag them to change the figure.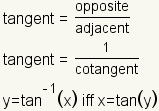 Figure 1: Tangent equations.