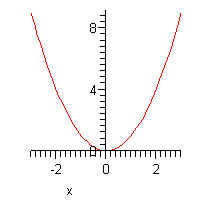 Figure 1 - Graph of f(x) = x2.
In figure 1, f(x) = x2, the output variable is f(x). One can tell which is the output variable because it is by itself on one side of the equation.
Cricket Population
Year
1992
1994
1996
1998
Population
2053
1740
2741
2286

Figure 2: Table representing a function.
The table in figure 2 represents a function. The independent variable is year. This is because the year exists independently of the cricket population, and the cricket population is dependent on the year. The cricket population is the dependent variable.